Answers to the most frequently asked questions about senior living.
As you begin exploring senior living options, you're bound to encounter a number of words, phrases and ideas you may not have seen before. That's perfectly normal. We invite you to ask questions, seek guidance and raise your hand. After all, this is a big decision, and our job is to help you get it right for you and your family.
If you don't see your question below or need more clarification, please don't hesitate to get in touch.
Questions about independent living.
What is an independent living community?
An independent living community is the perfect place for active seniors who are able to enjoy an active life and want the total freedom of a carefree retirement lifestyle. Home maintenance and yard work become a thing of the past, and the community provides a wide range of services and amenities—including dining, a full calendar of social opportunities and entertainment, transportation, cleaning, health and wellness activities, security, and more–so residents can truly live the lives they want to live. Are you ready to move into independent senior living? Check out our blog to learn more.
What's it like to move into a life plan community?
When you move into your residence at a life plan community, you'll receive a variety of services such as dining, housekeeping, scheduled transportation, maintenance and security, and have access to a whole array of incredible amenities and social, wellness and educational activities. You'll live independently and enjoy the lifestyle you create for yourself. But the unique benefit of a life care community is the access to a continuum of care right on the same campus if and when it's needed. For instance, Galleria Woods provides a full range of care, including assisted living, short-term rehab, and long-term care. Transitioning among these levels of care is simple and seamless, and you'll always have the peace of mind knowing that you'll be receiving care surrounded by friends and staff who know you. Learn how Life Plan Communities work and everything you need to know about senior living contracts on our blog.
How much does it cost to live in a retirement community?
Costs can vary widely depending on the community and the services offered. A life care community (like Galleria Woods) typically offers a residency agreement with a one-time entrance fee along with a monthly payment that covers the services provided. The entrance fee and monthly fee will vary depending on the size of the residence and the number of occupants. When needs change, care is provided on site from people you already know and trust. In addition to an entrance fee, a monthly fee covers community maintenance, dining programs, and access to all the services and amenities of the community. Refundability of your entrance fee will vary by community. Check out our blog to learn about senior living contracts offered at life plan communities.
Take our quick assessment to learn which floor plan is the best financial fit for you.
Is Galleria Woods a pet-friendly senior living community?
Our retirement community is pet-friendly. Your dog will love the walking trails on our campus.
What does the monthly service fee cover?
Your monthly fee covers home maintenance and property taxes, utilities, your dining plan, fitness membership, a beautifully maintained campus, and dozens of other services and amenities.
Why do I need Lifecare?
Our Life Care contract offers a way to pay for long-term care expenses that makes them more predictable — saving you tens of thousands of dollars over other long-term care options. When you consider that the Department of Health and Human Services says 7 out of 10 adults will need long-term care at some point, for an average of 3 years, Life Care can be a financial lifesaver!
General Community Questions
How do I get on the waitlist?
You may join our exclusive wait list program, the Signature Club, which gives you access to insider events and VIP opportunities while you await your perfect accommodation. For more information about our Signature Club, give us a call at 205-277-6915 or click here.
Do you have clubs and organizations?
Whether you choose from the robust community calendar or do something on your own, there are plenty of ways to get to know your neighbors and stay as busy or relaxed as you like.
We have 45+ interest groups and clubs, check out our activities page for more details!
How close are you to an airport?
We are just a short 19 minutes away from Birmingham-Shuttlesworth International Airport.
Do you have transportation?
Yes. We provide regularly scheduled transportation to Dr.'s appointments as well as grocery shopping and trips to Walmart.
Will I have access to a library?
Yes, we have a large onsite library.
How does the meal plan work?
Our innovative dining program is part of your monthly plan. Enjoy the elegance of our formal dining room. Treat yourself to casual fare at the Bistro, including freshly brewed coffee and the very best hot dogs in town.
Answers to help you better understand assisted living.
What type of help is typically provided for residents in assisted living?
In an assisted living community, residents get help with some of the basic activities of daily living. These often include assistance with bathing, dressing and grooming, medication management and personal maintenance. The specific assistance provided is determined by a personal services assessment in order to understand needs. The goal of assisted living is to allow residents to enjoy their lives with just the right help while living as independently as possible. Wondering when it might be time to move to an assisted living facility? Read our blog to learn more.
What's the difference between assisted living and a nursing home?
Assisted living gives you the helping hand you need to keep active, stay engaged, and pursue your passions. You'll live in a beautifully appointed apartment home and receive assistance with the basic activities of daily living, tailored to your specific needs, such as help with bathing, dressing and grooming, medication management, and personal maintenance. Nursing homes, on the other hand, are for those with chronic medical conditions or disabilities, or those in chronic pain, who require round-the-clock care and supervision by licensed skilled nursing professionals. Read more about what assisted living is like in our senior living community in Birmingham, AL on our blog.
How do I choose an assisted living community?
The best way to get to know an assisted living community is to take a tour! Create a checklist of what you want in a senior living community and compare it to your tour. It's also helpful to create a list of questions to ask each community. To learn more about what to ask assisted living communities, check out our blog!
Exploring skilled nursing.
What is skilled nursing?
Skilled nursing care, also sometimes called long-term care, is for residents who need an advanced level of ongoing, 24-hour care that can only be provided by licensed nurses. Residents may need post-hospital care, wound care, intravenous therapy, catheter care, or other health care services. People staying in skilled nursing for short-term rehabilitation may also require skilled nursing and can receive inpatient physical therapy, occupational therapy or speech therapy. Learn about activities seniors can do while in skilled nursing on our blog.
Is a skilled nursing area of a senior living community like a hospital?
The skilled nursing area of a senior living community is not like a hospital. Many patients and residents utilize this area of care after a hospital stay. While this area of the community does provide advanced levels of on-going long-term care as well as short-term rehabilitative services, the suites and spaces are designed to be warm and comfortable and reflect a home-like environment.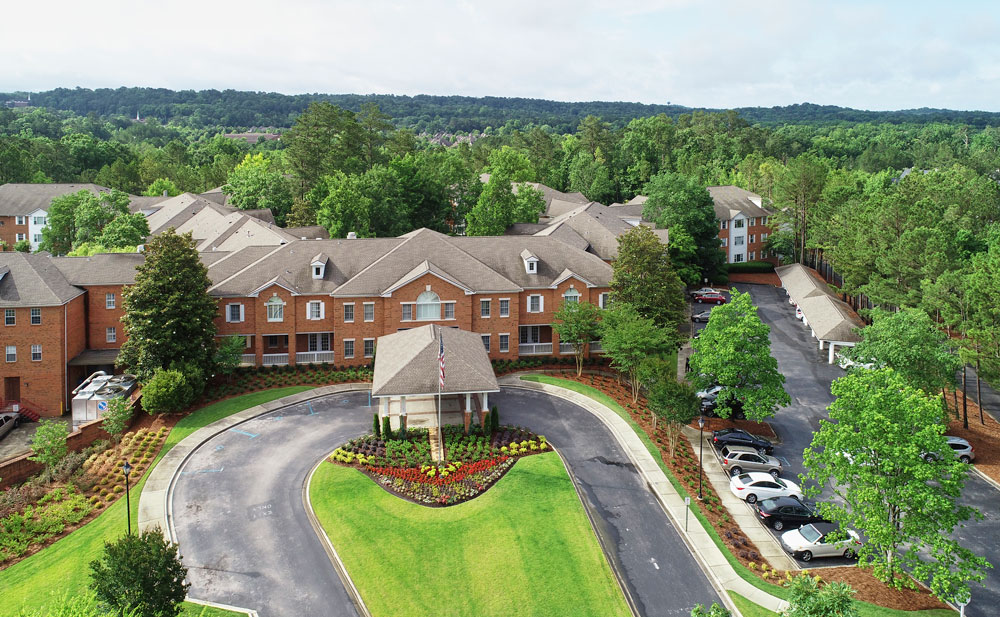 Ask us anything you like about our senior living lifestyle.