Understanding Your Senior Living Options: Rental vs. Buy-in Model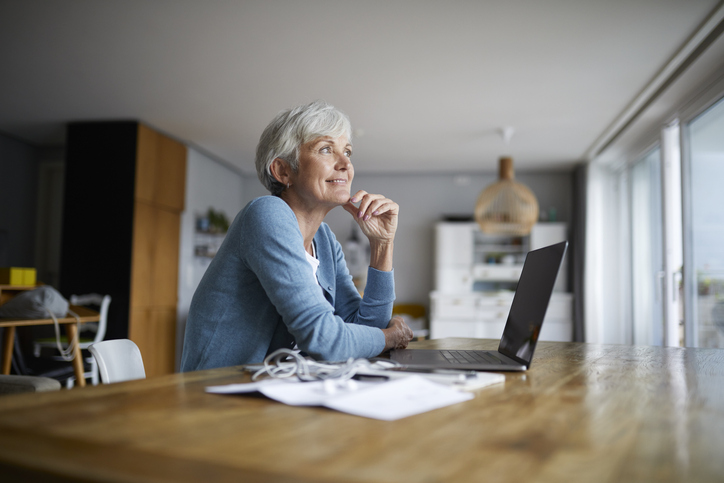 If you're searching for the perfect senior living community, you're weighing a bewildering number of variables, from location and lifestyle to cost and payment models. One way to organize your thoughts and narrow down your senior living options is to explore one factor — payment models — and decide whether the buy-in or rental model more closely aligns with your retirement goals.
What Is a Rental Senior Living Community?
In a rental community, residents sign a lease and pay any upfront fees such as a security deposit or community fee. Upon move-in, residents pay monthly rent, which covers the cost of renting their home, plus access to services and amenities that may include maintenance, security, social activities, a pool or fitness center, and even meals.
Not every rental community offers a continuum of care, but in those that do, your monthly payments will increase as care needs change.
What Is a Buy-In Senior Living Community?
A buy-in community is another way to refer to a Life Plan Community, also called a continuing care retirement community (CCRC). These retirement communities offer dozens of amenities and services, plus a continuum of care, which may include independent living, assisted living, skilled nursing and rehabilitation, on the same campus. If a resident experiences a health setback, they can transition seamlessly to a higher level of care, rather than having to make a disruptive move to another community. What's more, couples who need different levels of care can remain close to each other, in the same community, while getting their needs met.
Some Life Plan Communities offer Life Care, which is considered the most comprehensive financial contract available in senior living. With a Life Care contract, residents pay:
A one-time entrance fee

, which secures an independent living residence and priority access to long-term care, if necessary. The fee is based on the size of the residence and the number of occupants.

Monthly fees,

which cover home maintenance, property taxes, utilities, a meal plan, fitness membership, and a host of other amenities and services.
These fees secure priority access to higher levels of care at a rate that's similar to the monthly fee you pay for independent living. With Life Care, you know where you'll receive care, who will provide it, and how much it will cost.
Comparing Senior Living Costs
At first glance, the rental payment model may appear to be the simpler and less expensive senior living option. You're likely familiar with how the rental process works. Plus, the security deposit and community fee will be significantly less than the entrance fee of a Life Plan Community.
But if you consider each payment model in terms of how it fits with your financial strategy for retirement, you'll see that the initial simplicity and savings in a rental community can't compare to the long-term simplicity and savings you'll find in a Life Plan Community that offers Life Care. Here's why:
You'll Likely Need Long-Term Care
A person turning 65 today has an almost 70% chance of needing some type of long-term care.
In a

Life Plan Community

there's no guesswork; you know exactly where you'll receive that care.

In a rental community that doesn't have a continuum of care, you may have to move to a new community in the midst of the stress and confusion of a health crisis. Or you may need to hire in-home care.
Long-Term Care Costs Continue to Increase
The cost of long-term care has increased faster than the rate of inflation since 2004. In 2022, the national monthly median cost of assisted living was $4,635, while a private room in skilled nursing was $9,305 per month. The cost of an in-home health aide working 44 hours a week was $5,302 per month.
In a

Life Plan Community

that offers a

Life Care contract

, you secure predictable fees that won't increase significantly as your care needs change. That means you'll pay substantially less than the market rate for long-term care, which can lead to considerable savings.  

In a rental community, you'll have to pay the prevailing rate for care, whether you stay in the same community or relocate. Considering that women need long-term care for an average of 3.7 years and men need it for 2.2 years, the cost of care can add up quickly.
Life Care Offers Additional Advantages
In addition to simplicity and savings, a Life Care contract offers other benefits, such as:
Potential tax advantages.

Depending on your eligibility, a portion of the entrance fee may be deductible on your federal income taxes.

Partial refundability.

Some

Life Care contracts

make a portion of the entrance fee partially or fully refundable when residents leave the community, protecting assets for heirs.
Experience the Advantages of Life Care at Galleria Woods
With resort-like amenities, chef-prepared menus, and a warm, welcoming atmosphere, Galleria Woods offers a vibrant lifestyle, plus the simplicity and peace of mind of a Life Care contract. You'll enjoy a fulfilling lifestyle in independent living, plus have access to care for life, including assisted living, skilled nursing and rehabilitation services – all on one beautiful campus. Contact us to learn more about Life Care or to schedule a visit and experience the lifestyle for yourself.