How to Turn Your Porch or Patio into a Private Oasis
Outdoor spaces don't have to be big for you to make the most of them. All you need is a little know-how. Read on for a list of patio design ideas that would work beautifully for your porch or sunroom too. 
Step Outside
Enjoy the view. Grow some flowers. Read a book. Entertain a guest or two. A cozy patio or porch is a comfortable spot to do so much. Think about how you can expand your indoor living space to the outdoors. Do you see yourself eating breakfast out there? Lounge with a book or watch a movie on your tablet? Grow flowers and herbs? Entertain friends over a glass of wine? How you intend to use the space will affect your patio design ideas, including the furniture and home decor you choose.
Seven steps to an instant oasis
Decorating a small space can be a lot of fun. You can choose a bevy of patio design ideas that will make it as complex or simple as you like. But if you'd rather just skip to the good part — that is, sitting outside and enjoying the fresh air — these seven steps will instantly transform your patio space into a private oasis.
1. Remove any clutter and store unused objects.
2. Layer your outdoor couch with soft throws and comfy cushions.
3. Add a floor rug in a coordinating color.
4. String globe or fairy lights from the ceiling.
5. Arrange your favorite potted plants in a corner.
6. Place snacks and beverages within reach.
7. Turn on some music, relax and enjoy!
Mix and match your favorite patio design ideas
We've gathered a range of decorating tips to inspire your patio design — pick one, pick two, pick as many as you like — and mix and match to your heart's content.
Color Tips:
Pulling colors from the interior of your home and continuing the theme on your patio creates a seamless transition from inside to outside.
The colors grey, brown and white are a versatile combination. Use them for your permanent fixtures and furniture, changing the colors of your accessories and decor for seasonal interest.
If you like a little drama, consider painting one or all walls or staining wood surfaces a single strong color, such as deep red or black.
Blue and white stripes are a classic nautical look. Mix in some café chairs or a shady striped umbrella to add a touch of playfulness.
Juicy Florida colors such as lime and strawberry mixed with warm wood and crisp white evoke a fresh, tropical ambience.
Furniture Tips:
Prefer an airy look? Try furniture made of light wrought iron, seagrass or wicker.
Consider placing a bench along a wall. You eliminate the need for side tables as drinks and food can be piled on it, and it can be used for extra seating when needed.
Folding tables and chairs are useful for entertaining and can be stored when not needed.
Add a small chair or a padded banquette in an unused corner for extra seating.
Teak furniture adds a casual feel, and the wood is highly durable.
If you like a more modern look, architectural shapes and plastic furniture add an edgy vibe.
Rather than buying a set of matching pieces, mix and match old and new to create an inviting and charming effect.
Love the vacation vibe? Then a folding lounge chair or daybed  should be your choice for suntanning  and relaxing. Or hang a hammock for those open-air naps.
Hide garden tools or a mini barbecue grill in a storage bench that doubles as seating.
A standing or hanging wicker swing piled with cushions makes a comfy nook and saves floor space.
Plant Tips:
Potted plants add greenery without taking up too much space.
For a clean look, keep your flowers or greenery small and simple.
Save space by combining plants into a single planter rather than several pots.
Plants of different heights, colors and shapes create dimension and character.
Planter boxes with vines add a spill of color over the balcony.
Hang planters on the wall to save space and make the patio appear larger.
A tall blooming plant in a pot can make a short ceiling seem higher.
Tuck a small planter of fragrant herbs to the side for your kitchen needs.
Don't have a green thumb? Faux plants in planters will do just fine too.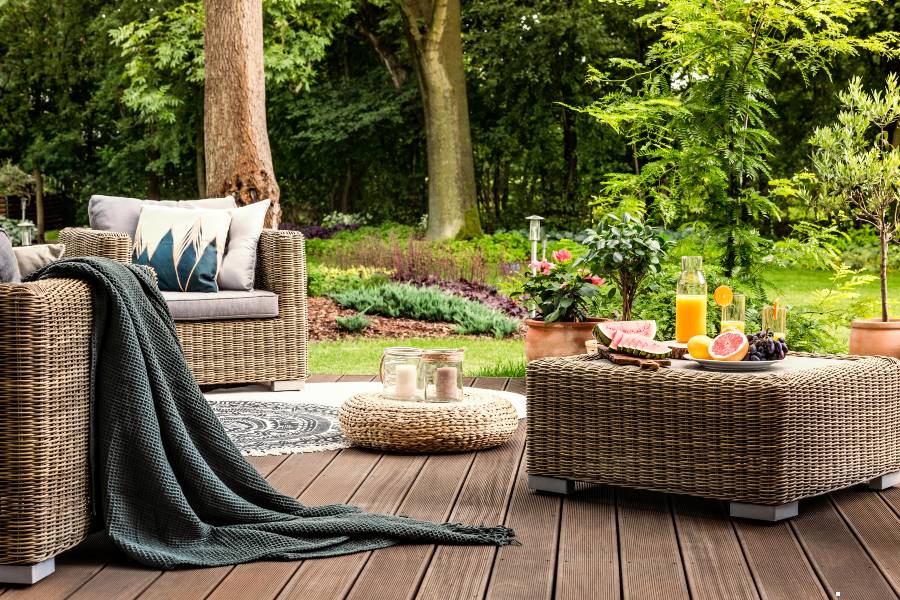 Decor Tips:
A small chandelier hung for looks rather than function gives a bohemian feel. Get a wooden one to paint or look for a colorful plastic one that will weather the elements.
A practical decorating idea that adds privacy is to hang outdoor drapery. Use thicker fabric to block the sun, or colored sheers for a gauzy effect.
Large wicker baskets hold wraps and throws for cooler weather.
Add a few candles or lamps for soft light at night.
The splashing of a small fountain or water feature adds a soothing sound.
Roll a fully stocked bar  cart from your kitchen to the patio when entertaining guests.
Make your own screen out of bamboo poles or bundles of tall twigs from a garden store.
Rugs can be a tripping hazard. Consider painting or stenciling the floor of your patio for a unique look.
Interlocking wood tiles are an inexpensive way to change the look of the space.
Making time for yourself and for others.
We hope you find these patio design ideas helpful and inspiring. This is about designing a space where you can enjoy moments for yourself, and with the people you care about. At Galleria Woods, we'll help you do just that with a retirement lifestyle that frees you from the hassles of household chores and home maintenance. Many of our spacious independent living homes and garden homes feature a private patio, porch or enclosed sunroom that make the perfect oasis. Learn how you can make a home in our friendly, carefree community by contacting us at 205-277-6915.