How to Downsize While Still Making it Feel Like Home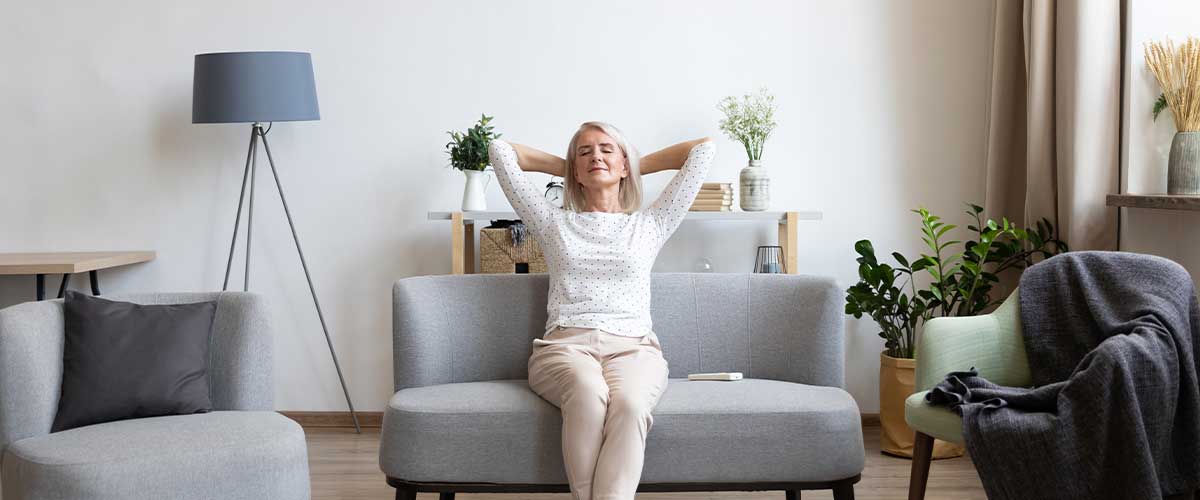 Downsizing. For many seniors, it's a word that raises stress levels, and understandably so. For those who think it means trading a home full of memories and mementos for a cramped, impersonal senior living apartment with four bare walls, think again.
At Galleria Woods, we think of downsizing as rightsizing to craft  the life you want. And we're here to help you design your new space in a way that's uniquely you. It all starts with adding your personal touch by choosing your favorite flooring and paint colors. From there, creating your home décor really starts to flow.
Many find it enjoyable because, once they move in, their creative side comes out. Below are simple tips full of home décor ideas on how to easily make your new space reflect your style and feel like home. And remember, have fun!
Be Choosey
This is your space. Your home décor should reflect your taste, and your personality, unique passions, and history. Determine what's important to you and use them as a starting point for your room décor ideas.
Start With Photos
Nothing makes you feel more at home than surrounding yourself with photos of family and friends. Your favorite memories framed as wall décor or arranged on nightstands and countertops will create warm smiles. Some people like to stay consistent in their framing style. Others choose an eclectic mix of frames. What you choose is up to you. It's your place.
Add More Memories
As you plan your wall décor ideas, be sure to include sentimental items without overdoing it. The needlepoint your grandmother made. Your father's WWII medals. Whatever's important to you. To avoid clutter on tables and countertops, add shelving for smaller treasures. At Galleria Woods, we make it easy to do so. We have team members that'll be glad to hang shelves for you.
Include Artwork
Don't forget your favorite pieces of art to add color and conversation to your home décor ideas. The artwork isn't limited to paintings either. Remember that box of magazines gathering dust in the attic? Sort through, select a couple of your favorites –– Life magazine's Apollo 11 edition, Rolling Stone's 1969 Woodstock edition –– then matte, frame and hang. Old record album covers look great too, and you can buy ready-made frames to fit. But don't cut them apart. Frame the whole magazine or album carefully. Some of them are worth money!
Get Creative
One of the benefits of the maintenance-free lifestyle at Galleria Woods is having the time to explore your passions and discover new loves. Take an art class. Pick up the camera again. Learn quilting and incorporate important dates and memories into the design. Make a unique lampstand by stacking and gluing together your favorite old books. Getting creative displays your personality, creates a sense of pride and wows your guests with your originality. The pieces are interchangeable, too.
Display Your Pastimes with Pride
Make the tools of your hobbies and pastimes a decorative addition to your living room décor ideas. Like golf? An old wooden-shaft putter adds a unique accent above a wall-mounted TV. Are you a musician? A clarinet on a shelf or violins on the wall is eye-catching. And rather than stashing your guitar in a closet or under the bed, hang it on the wall using a guitar hook. It'll look beautiful and be close at hand when you're ready for pickin' and grinnin'.
Make Space for Friends and Family
Do you like to have people over? An active social life is important to everyone, and many of our residents at Galleria Woods love to entertain. Make your space welcoming to friends and family and feel like home. Arrange your furniture in a way that makes it comfortable and easy to interact. Have a small table for drinks and hors d'oeuvres, too. You'll also be quick to find that many of your displayed treasures and mementoes make for excellent conversation starters and storytelling.
Let the Outdoors In
Windows make a room feel larger and welcome in warmth and sunshine. Try not to block your windows with furniture; instead, arrange items to allow in natural light and provide view of the outdoors.  Add houseplants to add color and beauty. Many plants, including aloe vera, philodendron, and English ivy improve indoor air quality and even lower stress and help you sleep better.
Create a Budget.
Set aside a budget for incidentals and complements  to your new space. Throw pillows to match your newly painted walls –– picture frames, a fashionable ottoman with storage that can double as a coffee table when you add a tray. You don't have to spend a lot. Prioritize what's important to you and are needed most.
Bring Your Furry Friend
Your pet is a beloved member of your family, and your new place wouldn't feel like home without them. Galleria Woods highly encourages residents to bring their small furry friends –– we'll welcome  them with open arms.
Open the Door and Let Your Life Shine
Making the move to an independent senior living community is an exciting time. Galleria Woods offers a vast choice of floor plans of light-filled apartments and garden homes with spacious interiors. And there's lots of storage space, too!
Learn more about Galleria Woods and how downsizing can simplify your lifestyle in a way that's, well, uniquely you by bringing your home décor ideas to life.